This post has been a long time coming. I apologize for my long silence, but it's been hard to come up with the gumption to make this announcement, especially since so many of you have been with me for so long that you feel more like friends than customers. The short of it is, I'm shifting the focus of my business away from belly dance costumes.
You guys don't know this, but for a long time, I've felt like I'm floundering every time I make a new pretty thing. The issue is, I'm not dancing anymore. I used to call myself a "living room dancer" because I would at least practice, but kids, life, and waning interests have made it so that I can't even say that anymore.
Because I'm not dancing, I wonder if the things I make are still even on target for what dancers will like. And because I'm not dancing, I've lost that private, personal motivation that comes from designing and making pretties that I get to prance around in eventually. And finally, because I'm not dancing, and I'm a rather obsessive personality, not having something creative in my life to obsess over has also given me a floundering feeling.
In February, on a whim, I went to a local gaming convention. Our family, and our entire group of friends are major geeks, so I knew it would be a fun outing. What I didn't know, is that our local big "retrofuturistic" gaming convention (Templecon in Warwick, RI) is also the biggest steampunk event around.
A fact about me: I'm a Victorian era obsessed nut. I've never gotten into steampunk though, because the cogs and gears and stuff just aren't me. Because I'm a Victorian era obsessed nut, I had several gorgeous gowns prior to the convention, this one for example:

Yes, dork-girl made it for herself because she dreamed it and WANTED it even though she had no clue where or if she'd ever wear it. There was a "Neo-Victorian High Tea" at the convention. I saw it and realized, holy crap, I get to wear my teal gown somewhere.
Templecon shocked me, because apparently I'm not the only Neo-Victorian nut that isn't into cogs and gears. The event was full of gorgeously dressed women, and I'd say at least half of them were more taffeta-lace-confection than clockwork. My teal gown fit right in at the high tea.
I'd already started shifting focus a bit before the event. I wasn't sure what the new focus would be, but these two gowns aren't really belly dance and they were debuted in my shop already: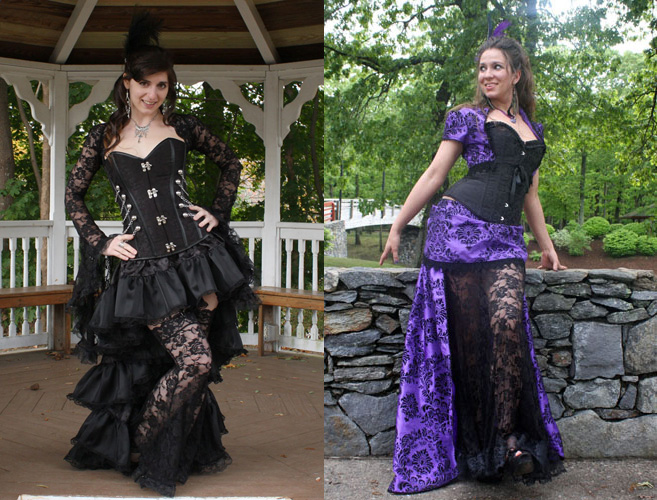 The steampunk convention cemented it in my head that there IS a market for the new things I want to make, and my dream of creating gorgeous gowns, and even getting to prance around in some of them myself on occasion, is totally feasible! I'm uber excited, and I've been having way too much fun playing with new shiny non-stretch fabrics in between re-stocking my shop of it's belly dance things.
I'm not going exclusively Neo-Victorian/Steampunk. There will still be belly dance items, for as long as you guys keep loving on them. I also have a lot of ideas for crossover items. My belladonna skirt is a perfect example. When worn with flared garter leggings and cut to just brush the floor in the back, it makes an AMAZING belly dance skirt. When worn with a corset, thigh highs and boots, it's Neo-Victorian all the way.
So that I can focus on my sewn items, my sister is coming on board to first help with my jewelry creations, and eventually take them over. I'll post more about her later, but you'll LOVE working with her. Those of you who have been my customers a while know that I am a nit picky perfectionist, which is bad for my sanity, but great for my pretties. My sister is actually more of a perfectionist than I am. I have to keep reminding her that customers will not be scrutinizing her product under a spot light with 20/40 vision, complaining about something not being perfectly aligned, or a small smudge on a bead!
To everyone who's been with me so far in my lace filled journey, thank you so much, and I hope to continue to create things that delight you. I'll close this off with a teaser – here is a sketch of some of the gown designs I hope to craft and debut this year (you might recognize the center top as the blue gown my sister is modeling in my recent facebook post):