I thought I'd take a second to share a few pics of my holiday gown. It's a long sleeved version of "Victorian Vixen" with a matching capelet for a bit of extra warmth.
I'm still wearing lace but notice the lack of see-thru-ness? It's the best quick and dirty trick to make my line of very lacey clothing carry over into winter times. Sweater leggings, a black maxi skirt from my street clothes, and then the lace skirt over the top.
And the capelet – OH the capelet! Have you ever felt minky faux fur before? It's the stuff that faux fur baby blankets are made from – uber soft and thick. The issue with using it in clothing, is it usually only comes in boring pastels. I was elated to find it in black, and a bunch of beautiful jewel tones, from one of my fabric wholesalers.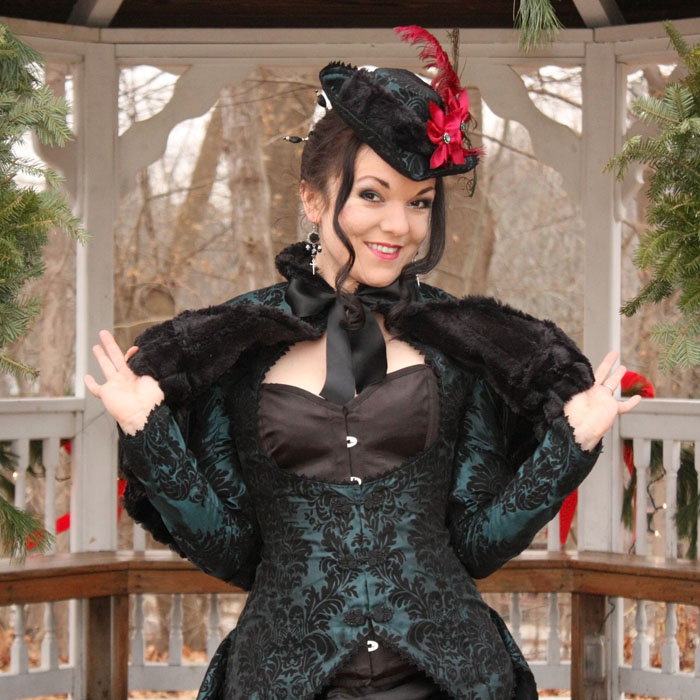 And yes, the ENTIRE inside of the capelet is made from this softy-soft fur. Which means technically, it's reversible. Me personally, I cannot allow my shoulders to part with the softness. But in a pinch, it would give you a fur capelet on the reverse side. I do have plans to make capelets with fur on both sides to solve this issue.
"Dark Winter" Gothic Victorian Gown by auralynne, and modeled by the same
Pics by her long suffering husband (baby do you mind doing a quick photo shoot this afternoon – Quick, I promise, quick!)