Lace Temptation Gothic Victorian Wedding Dress
$452
You'll be a Gothic Victorian temptress in this beautiful wedding dress. The bodice is a lace overlay corset, to pull in your waist and give vintage va-va-voom. The skirt is a hip-flattering bustle design with french tucks all down the back and a slight train. The front is short – a pleated swag that reveals just enough leg. The back is hitchable – because dancing is important!
Please check the box for the corset color you prefer, and choose your size.  Or you can custom-order a satin corset, in the styles and colors shown in the final two photos.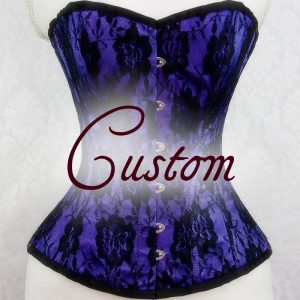 The corset will appear as a separate item when you add this gown to your cart.  Please do not remove the corset from your cart - corset purchase is required!
About This Design
This dress is made-to-measure to fit you perfectly, and is available in a plethora of beautiful colors.  There are also options above for "Skirt Style".  The photo below shows each skirt style.  "Basic" is a three piece set of Bolero, Corset, and Bustle Skirt – the pieces shown on my dress form in the photos above.  "Lacy" adds a see-through lace underskirt, to bring the look to a peekaboo full-length.  "Bustleicious" adds a bustle petticoat, to poof the skirt out in back.  Check both boxes to receive the "Deluxe" look!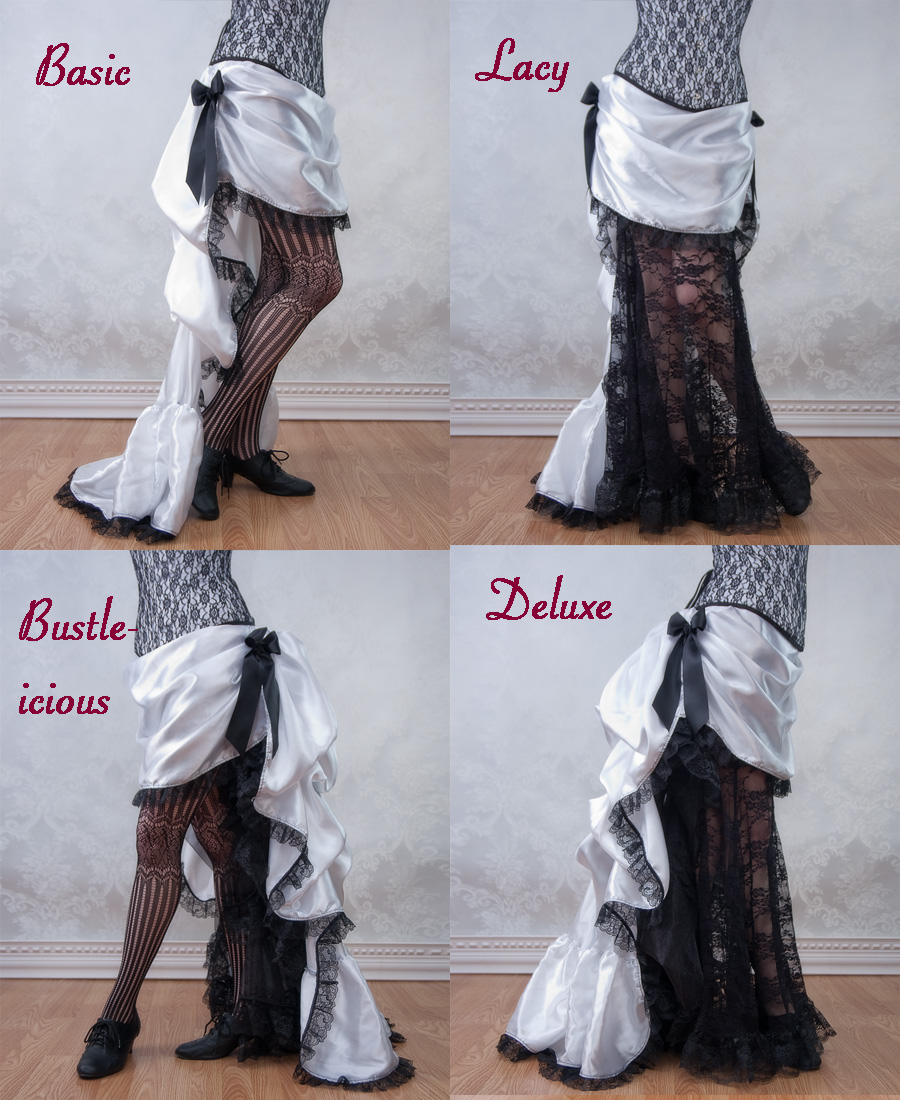 A matching shrug in white satin adorns your shoulders and neck. I didn't spare any tiny gorgeous detail – every edge is trimmed in ruffled black lace, and ribbon bows adorn neck, upper arms, and hips. This dress has all you need to feel like an elegant lady from another time – with a seductive modern twist.
Measurements
Please take your measurements (instructions here).  Choose the size that the majority of your measurements fit within.
| | | | | | | | | |
| --- | --- | --- | --- | --- | --- | --- | --- | --- |
| | XS | S | M | L | XL | 2X | 3X | 4X |
| Bust | 31-33″ | 33-36″ | 36-39″ | 39-42″ | 42-45″ | 45-48″ | 48-52″ | 52-56″ |
| Waist | 24-27″ | 27-30″ | 30-33″ | 33-36″ | 36-39″ | 39-43″ | 43-47″ | 47-51″ |
| High Hips | 31-33″ | 33-35″ | 35-38″ | 38-41″ | 41-44″ | 44-48″ | 48-52″ | 52-56″ |
| Low Hips | 33-35″ | 35-38″ | 38-41″ | 41-44″ | 44-48″ | 48-52″ | 52-56″ | 56-60″ |
| Upper Arm | 9-11″ | 10-12″ | 11-13″ | 12-14″ | 13-15″ | 14-16″ | 15-17.5″ | 16.5-19″ |
Also please provide your measurements to me when you check out, so I can tweak my patterns as needed to fit you perfectly.
As-Pictured Discount
The price in this listing is discounted (10% off each handmade item), as it's a bit faster to make something I've made before, and requires less time spent communicating what I'm making for you.  To avoid confusion, since the price is calculated based on the corset you choose, I created this listing with the discount already figured in.  If you contact me to request a custom gown based on this design, please expect to pay about 10% additional.
Matching Hat
If you like, I can make a hat to match this dress for you.  Several styles are possible, each of which matches nicely with the satin and lace.  I can make full-size top hats in with a satin ribbon band to match this look:
My lace-all-over Kentucky-Derby style hats also are an excellent match for this dress:
Finally, it would be possible to create this fedora-style tilt hat from the same fabric used to make your gown:
Frequently asked questions
Are there alternate fabrics available for this dress?
Many of my fabrics are too thick to gather properly – and the ruffle at the bottom of the skirt requires a gatherable fabric.  This gown can be created from exactly two fabrics in addition to bridal satin – taffeta, and cotton.  I have not found taffeta or cotton corsets which match my fabrics, so with either of these, we'll need to coordinate the corset with the trim instead of with the gown's fabric.

I recommend pairing Taffeta fabric with a corset in black satin, and black satin pleated ribbon trim over black lace.  With Cotton fabric, I recommend a corset in black brocade with black grosgrain ribbon trim over black lace.
Can you make this item with a different color trim (IE, without black)?
The lace overlay only comes in black, I'm afraid, but if we pair this look with a brocade corset in white or ivory, and switch the trim to double layer grosgrain in either white or ivory, it becomes possible to create this look with white or ivory trim.
I already have a corset.  Can I order just the bolero, bustle, and skirt?
I'm afraid that I don't offer made-to-order gowns without purchase of matching corset.  I have to turn custom orders down on a regular basis since it's just me designing and sewing all these creations.  Since my available time to sew custom orders is extremely limited, I must reserve it for full-gown customers only.