Perfectly Purple Steampunk Mad Hatter Costume
$187
You'll be sure to turn heads while wearing this beautiful costume. It's delightfully steampunk with a hint of bohemia – made with fun fabrics and trims in multi-tone shades of purple and teal. A cute bustle skirt adorns your hips – with flirty black satin bows, a short front, and a full bustled back, Victorian style. The trim is double layer – with teal green lace on the bottom to bring out the colors in the corset.
This bodice in this look is a fashion corset – which does not come in plus sizes.  If your bust measures above 40 inches, please reach out to me for information on options for plus size Mad Hatter costumes.
About This Design
This set includes my uber-versatile vintage diva skirt, which can be worn in many ways for many different looks. My photoshoot featuring this look is from before I designed the sleeves. I wore the miniskirt over my Vintage Flair Petticoat for a cute knee length look: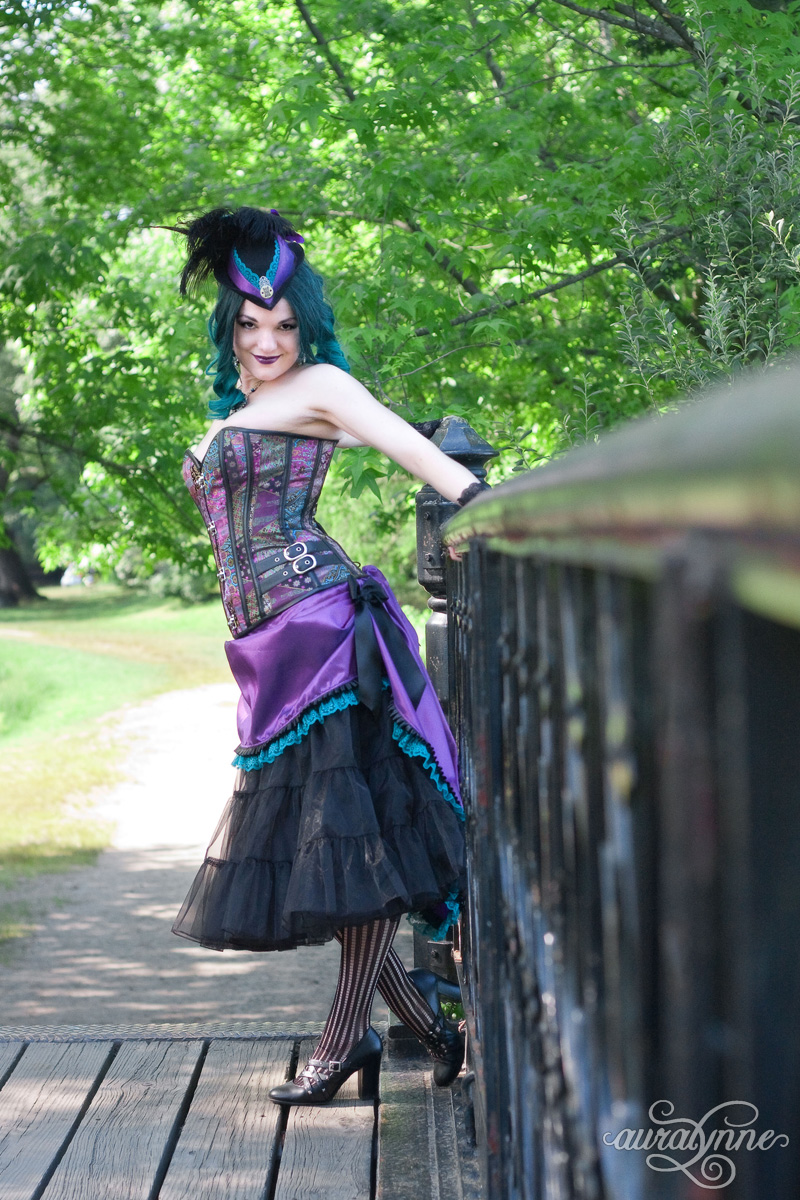 I make my skirts and sleeves, but I don't make corsets, so I have different size charts for each. With this look, the sleeves are attached directly to the corset, and the attachment point is customized based on your exact size and shape. Because of the customization, this item cannot be returned! Please include your measurements when you check out, so I can be sure I'm crafting your look correctly.
Size Charts for Handmade Items
| | | | | | | | | |
| --- | --- | --- | --- | --- | --- | --- | --- | --- |
| | XS | S | M | L | XL | 2X | 3X | 4X |
| Bust | 31-33″ | 33-36″ | 36-39″ | 39-42″ | 42-45″ | 45-48″ | 48-52″ | 52-56″ |
| Waist | 24-27″ | 27-30″ | 30-33″ | 33-36″ | 36-39″ | 39-43″ | 43-47″ | 47-51″ |
| High Hips | 31-33″ | 33-35″ | 35-38″ | 38-41″ | 41-44″ | 44-48″ | 48-52″ | 52-56″ |
| Low Hips | 33-35″ | 35-38″ | 38-41″ | 41-44″ | 44-48″ | 48-52″ | 52-56″ | 56-60″ |
| Upper Arm | 9-11″ | 10-12″ | 11-13″ | 12-14″ | 13-15″ | 14-16″ | 15-17.5″ | 16.5-19″ |
Size Charts for Fashion Corsets
| | | | | |
| --- | --- | --- | --- | --- |
| | S | M | L | XL |
| Bust | 32-34″ | 34-36″ | 36-38″ | 38-40″ |
| Waist | 26-28″ | 28-30″ | 30-32″ | 32-34″ |
| High Hips | 32-34″ | 34-36″ | 36-38″ | 38-40″ |