Arsenic and Black Lace Steampunk Top Hat
$184
You'll be the belle of the Steampunk ball in this beautiful top hat. It's made of black wool and accented with bright green decorations – a wide ribbon band, ribbon bow in back, and a flower accent in front. A spray of feathers adds pizazz – curled peacock, fluffy ostrich plumes, and dyed guinea, goose, and peacock plumage.
Included items: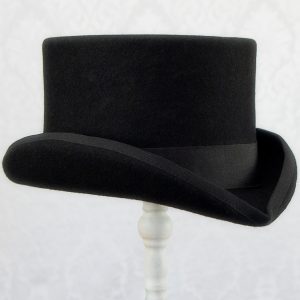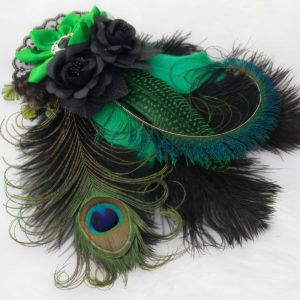 And a ribbon band with bow, made in the proper size for your top hat.
About This Item
This isn't your ordinary costume top hat! It's an extremely high quality piece made from 100% wool, lined in satin, with a vegan leather band. It's a piece you'll wear again and again – and to make it even better, I've designed the band and all accents to be removable. Thus, the top hat can be worn by itself, or with other fascinators and bands. And the fascinator portion can also be worn alone (as shown in the fourth photo above) – for wild west saloon girl or great gatsby looks.
If you already own one of my top hats, please feel free to contact me for a custom listing with the top hat removed. This will save $75 from the cost of your listing. If you have a top hat purchased elsewhere, my fascinator and band will likely not work with it. It requires a heavy quality, professionally stiffened top hat, otherwise putting on the band and taking it off again will damage your top hat.
Size Charts
| | | | | |
| --- | --- | --- | --- | --- |
| | S | M | L | XL |
| Head Size | 21" – 21.5" | 21.75" – 22.25" | 22.5" – 23" | 23.25" – 24" |
If you plan to wear your top hat over a wig, measure without the wig, but then order a size up!