Steampunk Alice in Wonderland Costume
$192
Fall through the looking glass in this adorable Steampunk Alice in Wonderland costume. Its pleated mini skirt front will make your legs look oh so long and shapely. The skirt's back is full enough to fit a full bustle petticoat underneath, and the hem is trimmed in ruffled brown lace for extra sass.
I typically keep this look ready-to-ship, but I'm all out right now! So it's available made-to-order in every size. Please note – the photos show this look with a corset laced with a white string, as was the case originally.  My current corsets in this style are laced with a black string, which coordinates better with the black banding.
About This Design
This set includes my uber-versatile vintage diva skirt, which can be worn in many ways for many different looks. Here are a few of the possibilities. Photos 2-4 also show items from my collection of handmade "underthings"!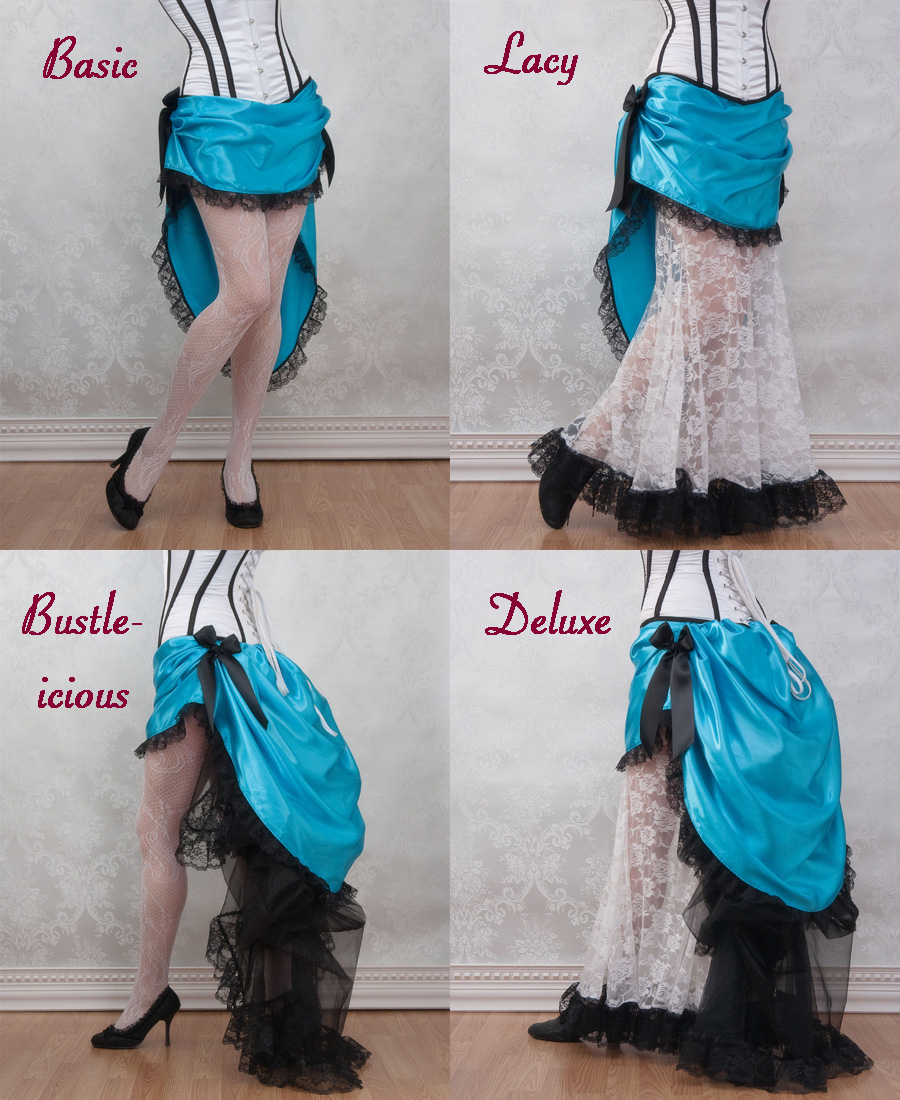 You can also order "Basic" style, but add this petticoat to your cart for the look featured in this photoshoot!
I make my skirts and sleeves, but I don't make corsets, so I have different size charts for each. With this look, the sleeves are attached directly to the corset, and the attachment point is customized based on your exact size and shape. Because of the customization, this item cannot be returned! Please include your measurements when you check out, so I can be sure I'm crafting your look correctly.
Size Charts for Handmade Items
| | | | | | | | | |
| --- | --- | --- | --- | --- | --- | --- | --- | --- |
| | XS | S | M | L | XL | 2X | 3X | 4X |
| Bust | 31-33″ | 33-36″ | 36-39″ | 39-42″ | 42-45″ | 45-48″ | 48-52″ | 52-56″ |
| Waist | 24-27″ | 27-30″ | 30-33″ | 33-36″ | 36-39″ | 39-43″ | 43-47″ | 47-51″ |
| High Hips | 31-33″ | 33-35″ | 35-38″ | 38-41″ | 41-44″ | 44-48″ | 48-52″ | 52-56″ |
| Low Hips | 33-35″ | 35-38″ | 38-41″ | 41-44″ | 44-48″ | 48-52″ | 52-56″ | 56-60″ |
| Upper Arm | 9-11″ | 10-12″ | 11-13″ | 12-14″ | 13-15″ | 14-16″ | 15-17.5″ | 16.5-19″ |
Size Charts for Hourglass Corsets
| | | | | | | | | | | | |
| --- | --- | --- | --- | --- | --- | --- | --- | --- | --- | --- | --- |
| | Size 20 | Size 22 | Size 24 | Size 26 | Size 28 | Size 30 | Size 32 | Size 34 | Size 36 | Size 38 | Size 40 |
| Bust | 32-34″ | 34-36″ | 36-38.5″ | 38.5-40.5″ | 40.5-43″ | 43-45″ | 45-47.5″ | 47.5-49.5″ | 49.5-52″ | 52-54″ | 54-56″ |
| Waist | 22-26″ | 24-28″ | 26-30.5″ | 28.5-32.5″ | 30.5-35″ | 33-37″ | 35-39.5″ | 37.5-41.5″ | 39.5-44″ | 42-46″ | 44-48.5″ |
| High Hips | 32-34″ | 34-36″ | 36-38.5″ | 38.5-40.5″ | 40.5-43″ | 43-45″ | 45-47.5″ | 47.5-49.5″ | 49.5-52″ | 52-54″ | 54-56″ |