I'm excited to post these photos – I do believe they are my prettiest photos to date! They were taken at Wickham park in Manchester CT. I'm a bit obsessed with the location – although most of it isn't antique, it is utterly gorgeous. It's hundreds of acres of park which seems to have been landscaped and accented for the express purpose of being as picturesque as possible!
First up, is my "Lady Adventuress" gown, modeled by Maddy Wooding.
The addition of leather accents and accessories lends a bit of steampunk flair to the look. I could (and plan to) also make a two tone black/brown version of this gown – accented with brown instead of black leather – which would look even more steampunk!
And the hat – oooh the cuteness of the hat! It's a leather fedora that I shortened to make it look more like the late Victorian era hats that perch atop the head. I can get them in black, red, or brown, and I absolutely plan to make them part of my regular line.
This second gown is modeled by Jordan Goodrich. It's a new twist on my Vintage Diva design that I'm calling "Oriental Splendor." The fabric has dragons and phoenix's woven into the pattern, and is oh so elegant.
It's hard to see it in this photo, but she's leaning against a really cool looking statue of a Chinese temple dog! There are two Asian themed gardens in Wickham park, with all sorts of gorgeous accents placed all around.
Her hat is one of my wool "topper" styles, which I figured out how to shape so that it comes to my signature pointed front. Mmmmmm peacock feathers!…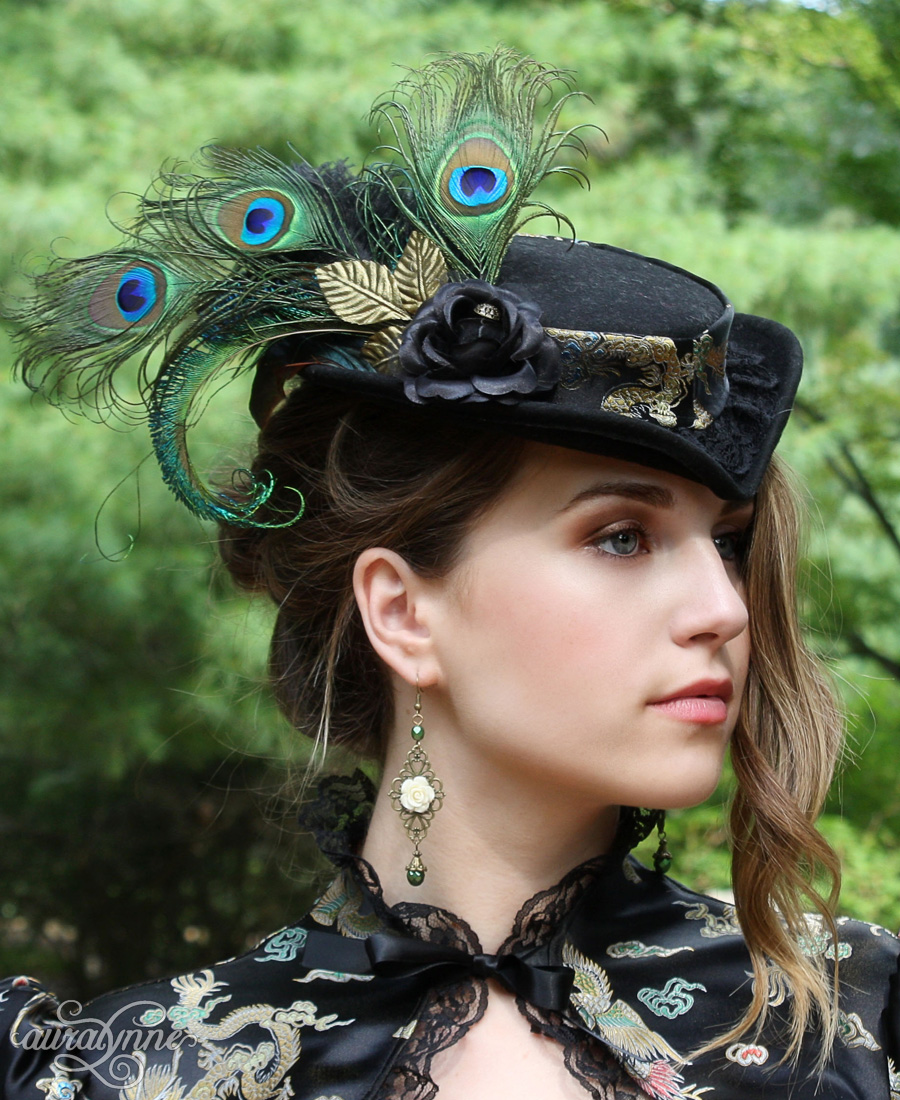 And here is my favorite picture of the day! The sad thing is that I can no longer order the hat base needed to make this hat (I could do other colors but not ivory.)
The model in these photos is Alexa DaFonte, and she is wearing a gown I'm calling "Lace and Allure."
It'll be available for a limited time in my store – while supplies last on the blouse since it's a piece I ordered from a clothing wholesaler.
Lauren Anne Page did an utterly beautiful job on the makeup on these ladies. Perfectly blended, and it stayed looking fresh and fantastic despite it being a hot sunny day. She had some kind of magic solution in a spray bottle to "set" the makeup. It was a breeze editing these photos!
This was a group photo shoot with Trisha May Photography, and she posted very many more gorgeous photos from the day on her blog here.