Halloween – oh lovely beautiful Halloween!  It's that wonderful time of the year when all the stores become full of skulls, black lace, and other sorts of darkly delightful things, and I'm suddenly not a weirdo anymore…
Okay, maybe not that last one.  It's kind of fun being a weirdo! 😉
This also happens to be the time of year when all good costume designers become attached to sewing machine via ball and chain!  But I managed to eke out enough time to scrounge thru the local stores to see the swag… the Halloween swag!  And pick out a few of my very own treasures.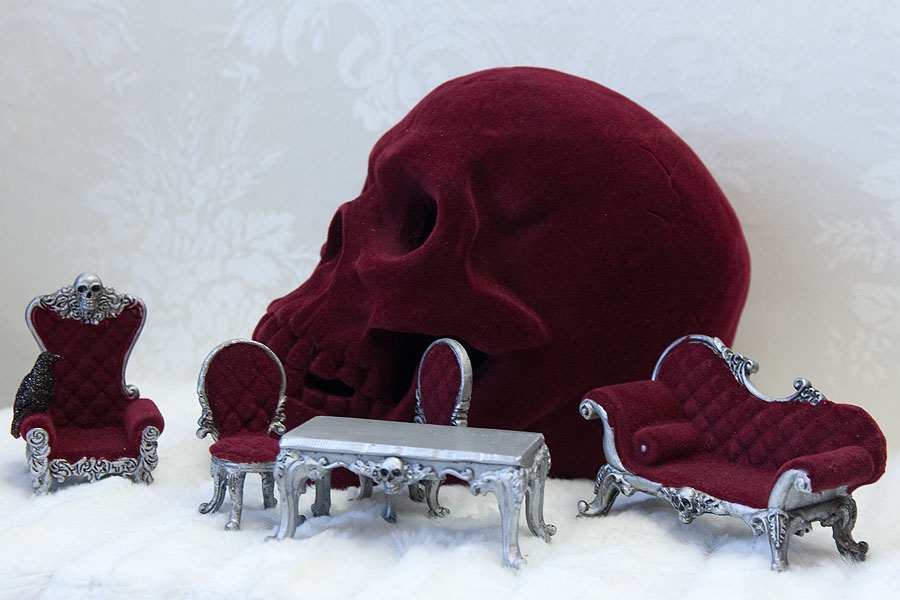 These are totally impulse purchases – mostly from Michael's.  I thought the skull could make a very cute display for headdresses at shows (it's lifesize), and the miniature furniture matched so I couldn't resist.  Oh evil 75% off sales!
Five words.  Black Crystal Chandelier String Lights.
Need I say more?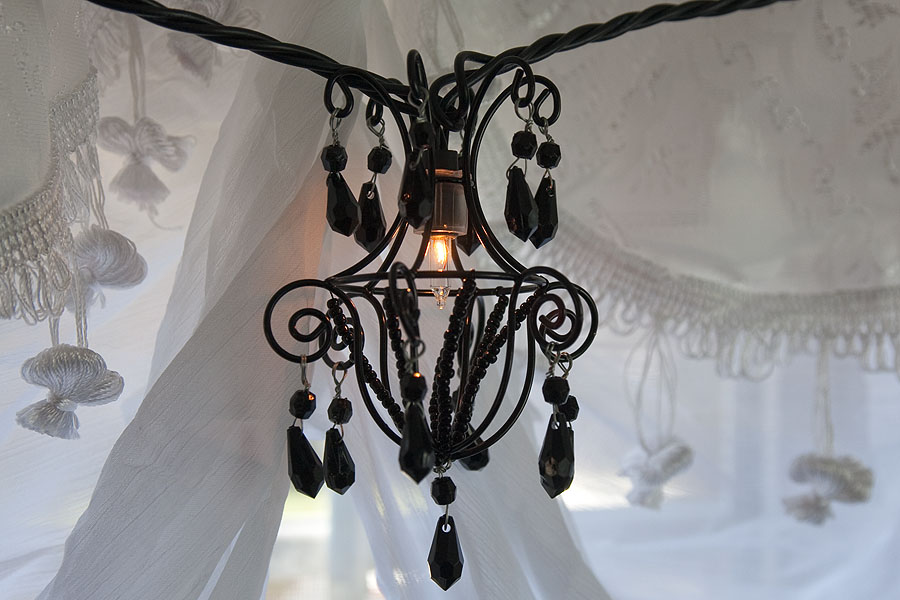 I found these first at Joann.com, used the locator tool to figure out which store had them still in stock, and made that my chosen Halloween shopping city.  Lol you won't find any of these in Warwick, RI.  All of them went home with me!
Hey look, it's Lady Death:
Those of you who were with me since the beginning will remember when I used to make earrings that looked practically identical to this wall hanging.  My sister, after taking on the jewelry portion of my business, has yet to add the exact "Lady Death" style to her shop (going to have to keep /poking her about things like that!) but she does offer an awesome similar style here.
I had to get it just for nostalgia's sake.
It had a black frame originally, but I painted it silver so that it can claim a place in the studio I plan to eventually have all decorated with gothy-chic cuteness – and ready for indoor photography.  Right now it will need to be squeezed into the stuffed to-the-max photo props corner in my current too-small studio!  Aaah the dreams, the dreams…  Lady Death was scored from AC Moore.
But the category in which I feel like I most hit the jackpot was socks – oh the epic Halloween socks!  I thought I was purchasing knee highs each time, so you can imagine my delight when I opened the packages at home and found they were actually thigh high!  And wearable with my garter shorts, of course.
The first two pair of cheesy halloween goodness came from Joanns, and the grey stripe were from Walmart, of all places!
If your local stores aren't yet sold out, you may be able to snag a few pairs for yourself.
And last but not least, OMG these shoes:
They cost me all of $10 at a random Halloween pop up store (Spooky-Town).  I had to ask both a store employee, and the checkout lady "Are you sure these are really $10?" because they bear such a striking resemblance to the shoes I've been lusting over at shows and at sinister soles, but hadn't yet shelled out around $70 to purchase…
Did you score some amazing Halloween swag this year too?  I'd love to hear about it!