About two weeks ago, I had a lightbulb go off in my head. I've never offered custom corsets before, but I totally could! The missing ingredient, as it turns out, is the store I've been busily building right here on this website!
I offer three types of corsets. Two of them are already posted in my online store. I offer steel boned fashion corsets – which won't actually reduce your waist size, but they come in epic cute styles that won't break the bank. I offer hourglass corsets – a pattern I drafted myself and sent off to a wholesaler to have manufactured just for my shop.
Finally, I offer a third grade of corsets, in the past only available to people commissioning a custom-made wedding dress or costume. My third corset supplier is the one with the SERIOUSLY drool-worthy corsets. They have ton of styles: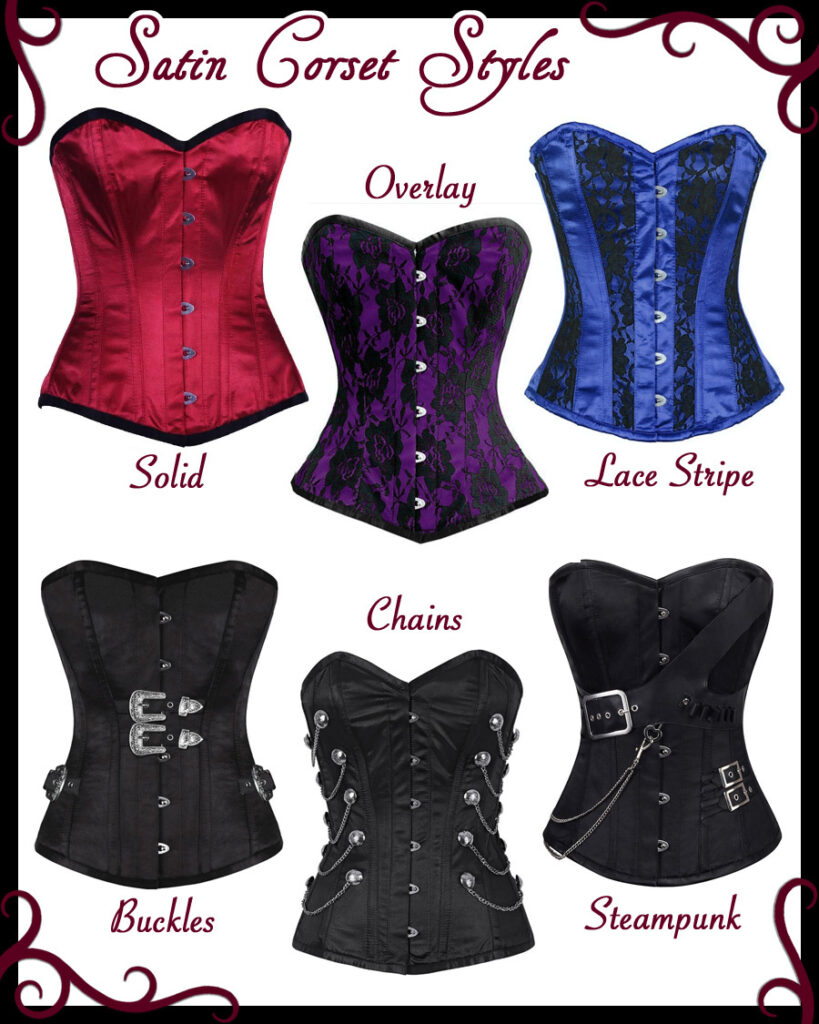 And a ton of fabrics:
These are the best quality corsets I've ever encountered – virtually indestructible pieces that weigh in at nearly 2 pounds each. They're available in sizes from 20 to 40 (or XS through 4X), and can even be customized to your measurements for the best fit.
With this supplier, I can order corsets one-per-style/color/size – but there is a total order minimum, which I always have a bit of trouble meeting! When offering them to custom-order-gown customers – there are several circumstances that help me meet their minimum – the income from the full gown I'm making, the fact that I typically run a backlog and can order multiple custom-gown-corsets at once, and the fact that these are the corsets I drastically prefer to wear myself at events and in photoshoots – all of these things help!
As I've been figuring out the tech to make pre-orders a part of my website (where you can sign up to be notified the next time I plan to make a batch of pretty things in your choice of fabric/trims) I realized – the exact tech I'm using to manage pre-orders is also perfect for custom corset orders!
There's a new category now in my online store – "Custom Corsets":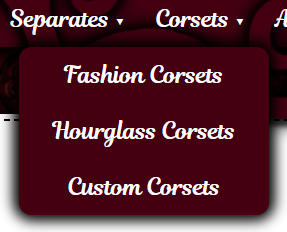 Right now it contains just two corset listings – but if you consider that each of these corsets come in 6 different styles and 9-12 different colors per style – that's a whole lotta corset possibilities already! Once I have more time for a photo-taking day, I plan to take photos of additional styles from my photoshoot corset collection, and post many more.
When custom corsets are available for purchase, you'll see an add-to-cart button on each listing, and a note about how long you have to place the order, and when you can expect your custom corset to ship:
When custom corsets aren't available, you'll instead see a waitlist button. Click it, and you can sign up to be notified the next time they're available – like you can with the "pre-orders" section of my shop.
I manage pre-orders with a WordPress plugin. It's intended for back-in-stock notifications, but with a bit of customization to the text blurbs, I was able to make it work awesomely well for my handmade costumes business! When you sign up, the system will add you to a list. There's a separate list for each item in my backend, so no worries about unwanted emails. You'll just get a notification about the thing you signed up for.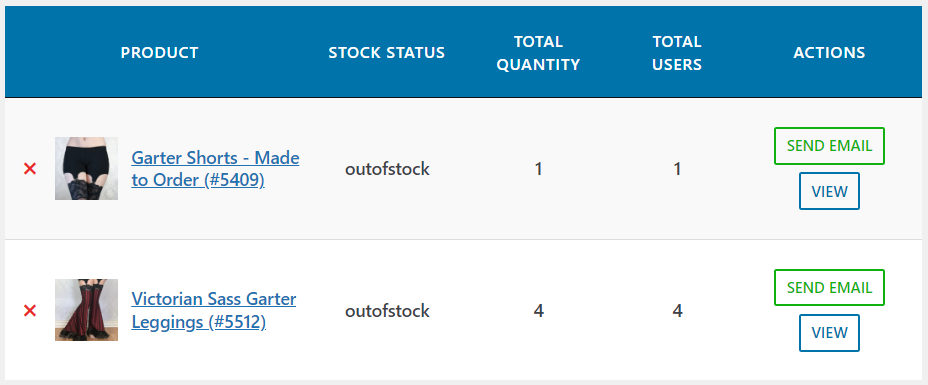 Last but certainly not least, custom corsets are available right now! To get in on this batch, please place your order by January 5th. Click here to order the custom corset of your dreams.