Have you ever had one of those days that just won't go right?
We had one of those recently. I had just finished with a couple of tea gowns, and we had one non-rainy morning that would work in which to take pictures. We decided to make our first trip for the year out to Eolia Mansion, a local historical mansion turned park that is probably one of the prettiest places in Connecticut.
You probably can't guess this by looking at our pictures, but they are all self made, completely not professional! We have a ghetto routine we follow on photo days, generally getting dolled up at home and piling in the car with baby, and each of us takes pictures of the other, while baby stays mostly entertained with toys and happy magic baby juice (adult translation: apple juice.)
There were minor snags in the morning causing us to be late getting ready, but the first major snag came when I realized the location of my stroller – which would be in the trunk of my husband's car, in the parking lot of the place he works, about 40 minutes away, in the exact opposite direction of Eolia mansion.
Our best option was to stop at Walmart along the way. Woot for Walmart shopping in full Gothic Victorian costuming.
We were nearly ready to go, and I went to put baby in the car seat, and there was no car seat. It was also in my husband's car, about 40 minutes away, in the exact opposite direction of Eolia mansion.
There was an old car seat in the basement, which needed to be cleaned before we could use it. Woot for working with bleach, laundry detergent, and soft scrub in full Gothic Victorian costuming… just kidding! Two clothing changes, one load of laundry, and a few minutes of scrubbing later, we're ready to go again!
I won't go into the hairy eyeballs we got all thru Walmart, and I haven't yet checked PeopleofWalmart.com for our photos, but we made it to the park. As always it was an utterly gorgeous place, with the mansion overlooking fields of swaying wildflowers, everything awake and alive for the warmest day of spring.
We got the brand new stroller out of the trunk. It was very theft proof. VERY theft proof. And very unpack-proof unless you happen to keep a tool kit in the back of your car. We didn't have a tool kit. We didn't even have a pair of scissors. And I do believe there was a zip-tie on that thing everywhere a zip-tie could possibly be placed.
After 12 minutes of straining, whining, and moaning, I discovered the secret of life. Or at least the secret of opening zip-ties with only a safety pin. The secret: insert the pointed part of the safety pin into the zip tie from the inside out. The point is to get the safety pin wire between that little flap and the ridged edge of the zip tie, so that you can pull it out. It could also probably be done with a paper clip in a pinch.
By this time tiny baby was most definitely out of patience. We broke out the happy magic baby juice, and got the last finishing touches of our costumes (hats, jackets, gloves and such) in place for the photos.
The best part is, you would never know about our strained patience from viewing the actual photos. 🙂 I'm quite pleased with how well they turned out! The first few I'm sharing in this post are me.
"Welcome to my estate, please come inside,"
(Heh… I wish!)
Such a pretty, pretty place! Harkness (the name of the state park containing Eolia mansion) always takes my imagination right to elegant gilded times, and being there IN COSTUME feels so awesomely epic. I <3 photo shoots. 🙂
Credits:
Gown by auralynne
Jewelry by Vixen's Delight
Hat by Mad Rose Hattery
The clothing pieces I'm wearing are available sold as a full set – it's called "Gothic Temptation" and it's posted for sale here. I also sell most of the items separately as parts of my "La Rose Gothique" and "Sweet Temptation" clothing lines.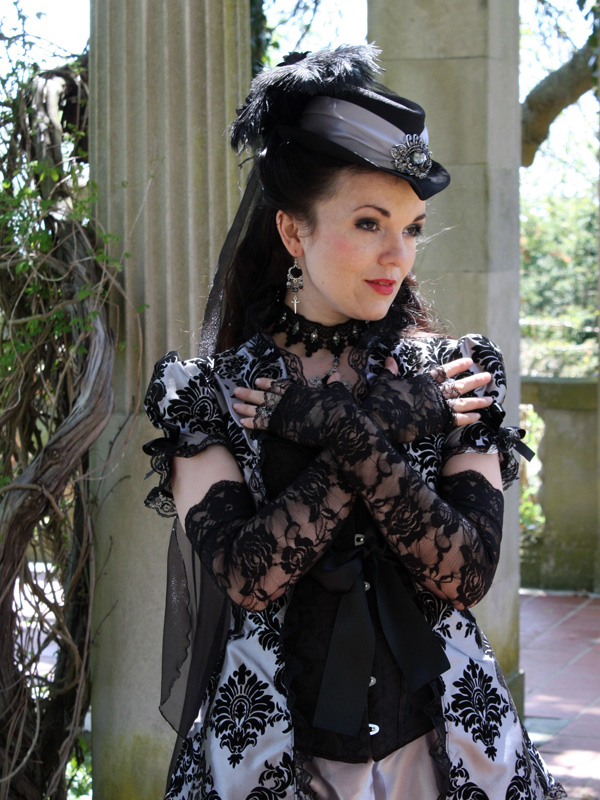 And finally, here's a pic of our long suffering tiny baby. He offered up a slight smile because, well, there was a camera pointed at him and smiling at cameras is what we do. One day I'll post some pics of him when he's in a good mood, he's usually quite the ham. 😀