I sat down with my sketch pad with the goal of drawing an adult coloring page featuring a Steampunk fairy… but then this happened!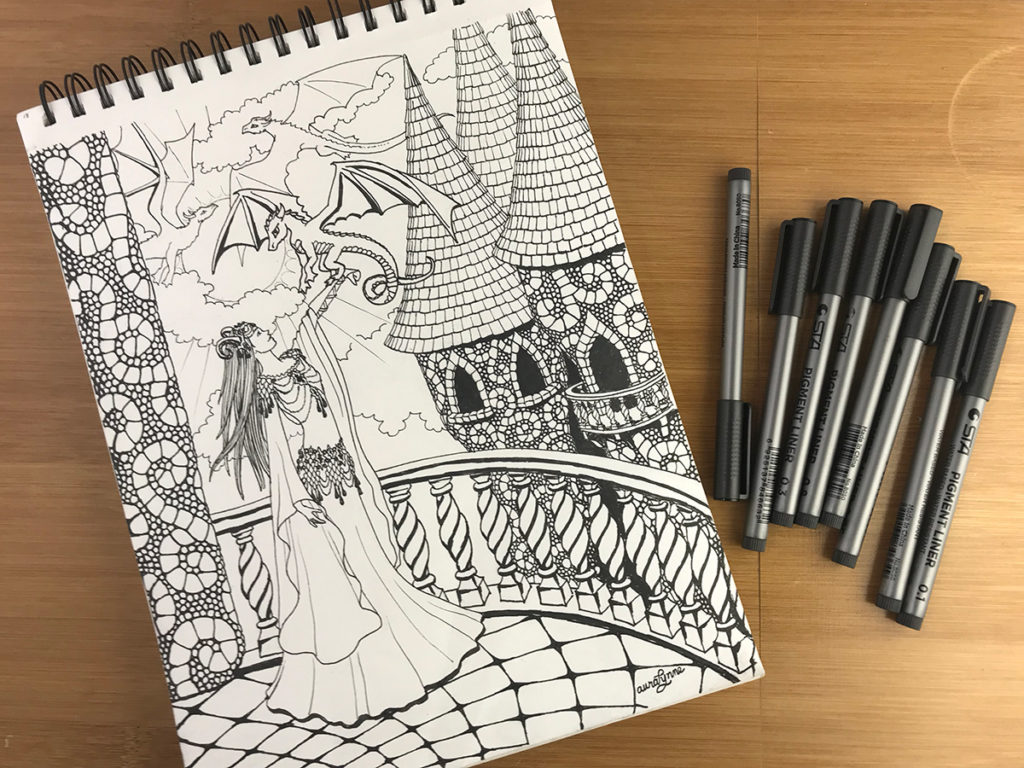 Lol, I'm not sure if I had Game of Thrones on the brain, or if I just wanted to do something straight from my imagination, and a little less practical.
As I was penning in this drawing, an idea of the fantasy world in the picture was forming in my head.  The lady is training the baby dragon in the photo.  Eventually it will grow up (the size of the ones flying in the distance) and she'll be able to ride it.  At least in my head, it's a land where castles are built right up into the sky, and the people all ride dragons.  I'd very much like to run away to this place, given what's going on in the real world right now!
I could make the dress my Dragon Lady is wearing in the picture. (I can make almost anything, lol!) But if I did, it wouldn't go very well with the rest of my designs – since I specialize in corset dresses. So my "Dragon Queen" gown idea will probably remain in my imagination.
Although I have to say – I would LOVE to make that belt and that shoulder piece. While I was drawing it, I was thinking about how I'd combine scale mail, and really big/amazing filigree pieces, and chandelier drops to make it – and I want to create it and watch it take shape!
Here is the printable coloring page: